Disney themed Glass Shoe Church built in Budai in remembrance of a sick girl. This beautiful spot attracted by women and girls for various reasons.
Budai, Taiwan: World is full of amazing landmarks with appealing stories behind them. Some are so unique that become cult in nature. One of such example is High-Heel Wedding Church located in the Ocean View Park, Budai township, Taiwan. It is unique because it's shape is exactly like Cindrella shoe. This Disney themed church also known as Glass Shoe Church. A 55 Feet tall structure is erected to attract women and other tourists in much eccentric and appealing way.
The building took two months to construct. The official opening took place on 23 July 2016, and although it had already been open to the public since February 08 of that year, the event garnered the village a lot of attention from both local and international media.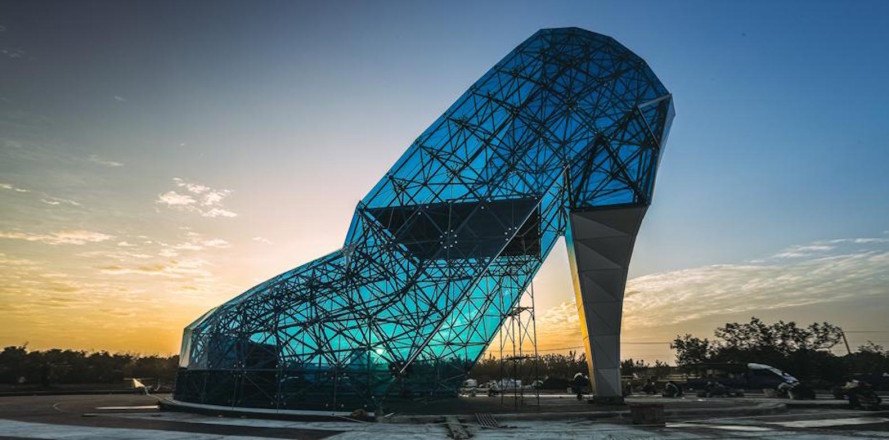 Made with a steel frame, the building consists of 320 tinted glass panes that shimmer in the sun. The extraordinary structure cost a reported NTD23 million (US$760,000) which the local authorities hope to recoup in the rental fees from the many weddings and other ceremonies that have already started to take place there.
Church has received a lot of criticism and controversies in recent times. Most people are calling it sexist and obnoxious. Calling a church only for women hurts a lot of people's sentiments. Moreover few lawsuits also made in its case but Government handle each situation elegantly.
History of the Church
In 1960s the deadly pandemic of Blackfoot Disease erupted in the Southern side of Taiwan. This disease is a kind of gangrene or foot infection. A 24 years old girl died due to it prior to her wedding. Along with that many women and girls lost their feet due to this disease. Many young girl's dream to walk on the red carpet, wearing stiletto heels destroyed due to pandemic. After the pandemic controlled, a unique idea suggested to make a building in order to remember those girls. A church that made Only for women apparently.
So after a lot of brainstorming, shoe shaped church came into being. This shape tells the power and beauty, solely related to women. Despite its name, it is not an actual church. No religious activities held here. Instead pre wedding shoots, or other events held here. Its shape is enough to bring a lot of tourists allover the world.
In order to reach here Taiwan has a very good transportation system. Just take a train from Chiayi Station up to Glass shoe station. Or you can take highway to reach here on your own car or bus. Each facilities are available there for local and foreign tourists. It is definitely a must watch destination for avid travelers.