Every country has unique dress code that makes them eccentric in the crowd. One of the main accessory is traditional caps or head wear. There are various cultural diversely styles of caps in Pakistan, famous in all kind of people.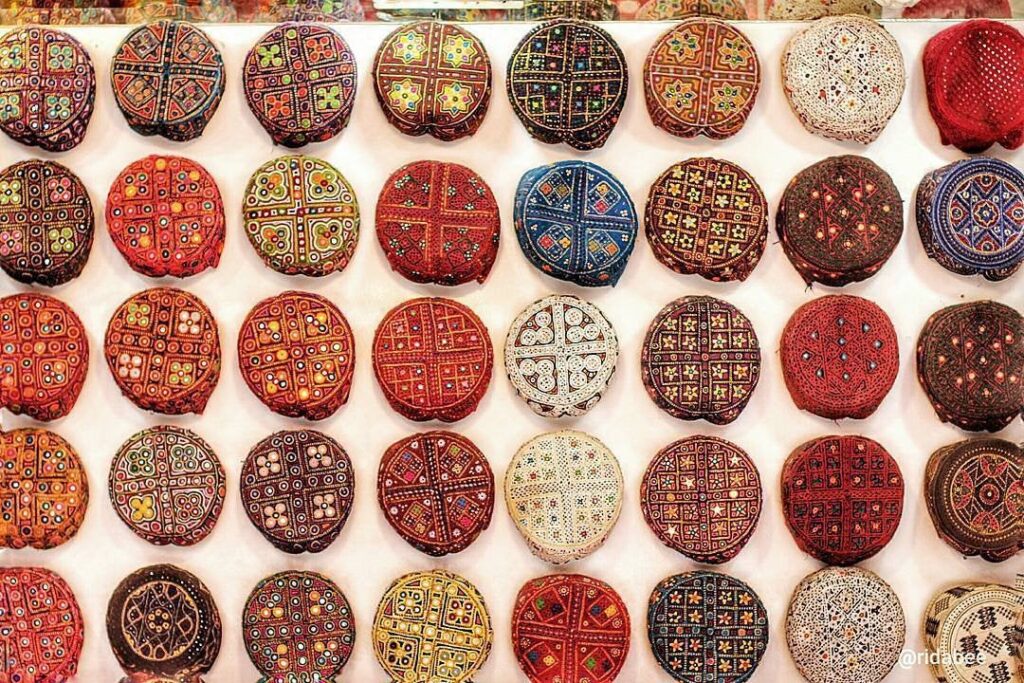 Pakistan is one of those countries that witnesses each kind of culture and traditions. Its colorful tradition is clearly visible in its dress code. Caps is one accessory that loved by both male and female equally. No festival or occasion is complete without its traditionally accurate cap. Pakistan has 4 provinces, each province and region has its own kind of traditional caps. People irrespective of their ethnicity, loves every kind of caps and wore them accordingly.
Here are few caps that are common and famous in general public. We will discuss its formation and design according to its cultural background. First, the name – Turban – in English means any wrapping of cloth or fabric around one's head. In Arabic it called "amaama", in Persian "dastaar", in Urdu "pugree" or " kullah" in Punjabi "pugree" or "pug", and in Pushto "patkaiy" or "patka."
Sindhi Topi
Sindh has the most old and beautiful culture in the region. The traditional caps here are very delicate and complex. In other words making a sindhi cap is equals to build a whole building. It has its own walls, floor or roof. Caps are very colorful and often decorated with beautiful beads and mirrors. It is very common in people of Sindh specially Internal Sindh and tribes.
Moreover it also recognized internationally and many important personalities wore this cap with pride. Ajrak and Sindhi topi is Pakistan's proud product that represents as a sign of peace and harmony. Even Pope Francis seen in Sindhi topi on his visit to Pakistan.
Afghani Traditional Caps or Pakols
Afghani caps also known as Pakols or Lahori Pakols because the fabric is originally from Lahore. These are soft caps that rolled from the sides to give it a unique shape. Hard sides gives it a shape like a beret. It made of hundred percent of wool. Also comes in various colors like black, white, brown etc. Craftsmen often decorate it with beautiful embroidery and threads. Its main market located in the heart of Peshawar, that exports pakols to whole world.
Women often wears embraided or sequined caps. Many famous personalities wears this cap because of its popularity. Most noticeable personalities who wear Pakol Afghan rebel Commander Ahmed Shah Masood and Chairman Pakistan Tehreek E Insaf Imran Khan.
Karakul Caps or Jinnah caps
Undoubtedly the most fashionable and unique cap in the lot. But due to its expensive material and sewing cost, it is popular in elite class only. It made of feathers of Qaraqul, a Sheep's breed. Triangular style started from Kabul, later get fame in all types of classes.
The qaraqul hat typically worn by men in Central and South Asia. The folding Karakul worn by the former Amanullah Khan in 1919. Thereafter, every Afghan king or president has worn this hat. It is a traditional Kabuli costume. In Pakistan it get famous because of Quaid e Azam Muhammad Ali Jinnah. He loves to wear this cap, hence it gets the name Jinnah cap on his name as well. Many famous politicians wore this cap to carry on his legacy.
Chitrali or Gilgiti Cap
This cap is almost a clone of Afghani topi. It folded from the sides as well but often decorated with a feather on front. Sometimes it sewed with golden thread on pure white cloth to make it more appealing. Tourists from all the world who visits Gilgit, must buy this traditional souvenir.
It is also famous in every class of society. They offers their guests and loved ones by giving this cap. Many political or sports personalities wore this cap on their tour to promote peace and equality.
Baluchi Pagree as biggest traditional caps
Most complex and layered style of caps in Pakistan is Baluchi Pug or Pagree. It is wore by style only a Balochi can style perfectly. It made of pure white cloth that covers the face whereas a long piece of cloth folded allover the face in various layers. Then the rest of white cloth wrapped around the shoulder giving it a shape of shield of cloth. It also helps to covers the face in case of storm or dust. Often styled with pure white shalwar kameez traditionally.
This cap is very famous is cultural tribes and groups. Tourists loves to wear it but only a Balochi can make it this beautiful. In old times it is significant to wear your cultural caps during war, so Balochi platoon looks eccentric from miles apart.
Punjabi Pagree
Also known as Kulla, this pagree consists of two layers, Cap and shimla. A 2-piece affair except that its inner kulla is relatively soft and conical in shape and the outer wrapping is usually, but not always, white and made of starched, coarse muslin. Like the Peshawari turban the pugree too, has a prominent  crest and a tail. The height of the shamla or turra varies from individual to individual and place to place.
They use different colors on cap instead of only white. Higher the shimla, higher the rank of the person considered in the society. It also considered as "Victory Factor" in feudals. It often represents as a traditional symbol in cultural festivals in colleges and universities.