Starry nights, white sand dunes, mesmerizing breezes, Katpana desert is surely one of the wonders of the world. Moreover one of the best desert declared by tourists as well.
Skardu, Pakistan: Usually deserts referred as sandy, scorching hot and unpleasant weather conditions. But there are few deserts that are one of their kind. Yes these are cold deserts or snowy deserts. One of them is Katpana Desert located in high altitudes of Skardu and Shigar.
It is one of the largest desert in the world covering area of almost Nubra, Ladakh, Shikar, Skardu, and Zanskar in occupied Kashmir. Its biggest region is located in Skardu and Shigar also famous as Biana Naqpo and katpana Biana according to locals. Most frequented visited location of the desert by tourists is near Skardu airport.
If we talk about it height, it is almost 2,226 meters above sea level (7,303 feet). It surrounded by huge mountains that covered with snow all year. In the extreme weather sand dunes also covered with snow. The color of snow here is not brown. It is ashy white, that's why it is unique in mainstream deserts. Desert is always windy so you can witness different experience every time you visit.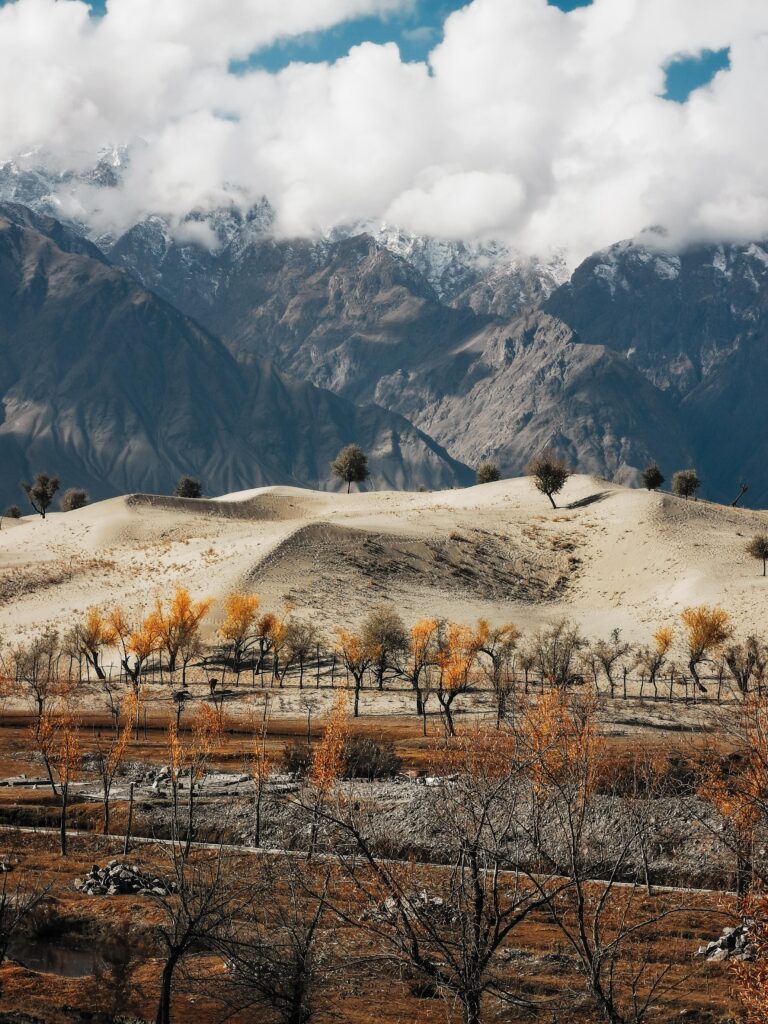 Katpana Desert has also lush plantation and vegetation. Its temperature is on the average of 8 degree Celsius to 26 degree Celsius in October which falls to -10 degree Celsius in December to January. Its temperature can sometimes decrease to extreme low as -25 degree Celsius making it colder than any hill station. The rocky mountains, beautiful sand dunes and mesmerizing stars at night makes it a memorable place you have ever visited.
Way to Cold Desert
Most of the tourists opted plane to reach cold desert. But if you choose by road, that is another level of adventure. It will take 2 days to reach Katpana desert by road. Road conditions are bad and unfavorable. Scenic beauty is amazing while people are so cooperative and warm hearted. But it is not for faint hearted. But once you reach there it is no less than a heaven.
It is one of the favorite spot for tourists in 2021. It is widely visited by foreign as well as local enthusiasts. If Government pay a little care to its roads and services it can definitely gave a huge amount of revenue to country's economy. A little effort can make this alluring cold desert a master piece on world map. You can enjoy amazing nights in one of the largest cold desert in full glory.