Noor Jehan is known as a Nightingale of the East. Today on her Birthday, we pay a homage to the melodic star of her time.
LAHORE, PAKISTAN – Noor Jehan was born on September 21, 1925 in Kasur, Punjab. She had 10 siblings. Her real name was Allah Rakhi Wasai. Came from a Muslim family with a rich musical tradition, she began singing at the age of 5 and received early training in classical singing under Ustad Bade Ghulam Ali Khan, one of a leading musical singers. Her professional career started at the age of 6, where she sang in few small ventures. She started in Indian industry and became a star real soon.
She was a household name in 1940s. Her movies Khandan, Naukar, Dost, Zeenat, Jugnu and many more were a major hit on the box office. She acted with Dilip Kumar in Jugnu. Moreover her acting as well as singing career took off really quick in the industry.
Her name was Baby Noor Jehan at that time. After partition she came to Pakistan and left Bombay. As she said, "I will live there where I was born". Her decision made Indian entertainment industry sad and devastated.
Personal and professional life
Noor Jehan got married to Shaukat Hussain Rizvi in 1944. He was a film director at that time. They both moved to Pakistan after partition in 1947. She had 3 kids with him. Famous singer Zille Huma is her daughter from Rizvi. She made her Lollywood Debut under his production.
In 1951 they both made a movie named Chan Way, In this movie her acting helped his husband in many processes. It was a great success on the box office. She has done 14 movies as an actor in Pakistan. 10 Urdu and 4 in Punjabi to be precise. She was fluent in Urdu, Punjabi, Pashto and Sindhi. She divorced Rizvi in 1953.
Also See: Met Gala 2021: All you need to know about this glamorous event
In 1959 she married for the second time to another director named Ejaz Durrani. He was 9 years younger than her. They both have 3 kids. He was very against her acting. To manage her personal and love life Noor Jehan quit acting. Her last movie was Ghalib in 1961.
However she never stopped singing. She started singing more in films and became one of the most famous and influential singer of the era. She sang around 10,000 songs and get a name "Mallika e Tarannum Noor Jehan" that means "Queen of the Melody". Despite of all the efforts she divorced Durrani in 1970.
This is also a rumor that she was in relationship with Cricketer Nazar Muhammad. But it was never proved. Later she married to an actor Yousuf Khan as well.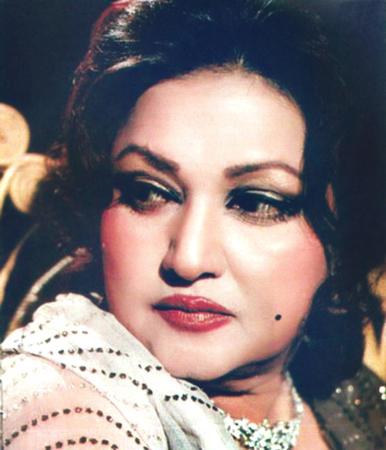 Famous Songs of Noor Jehan and 1965 War
She debuted as a film singer in her own movie Chan Way. But she got fame by her songs in movie Salma (1961). Her popularity went across the world. Her songs like Mera dilbar, Sun Wanjali di, Dil da jani and many more were household songs. Most of her famous songs are in her native language – Panjabi. Her Ghazal "Mujhse Pehli Si Muhabbat" written by Ahmed Faraz was all time favorite till now.
In the war of 1965 Noor Jehan sang 12 songs in order to boost morale of armed forces. Whereas if they played now people feel the same sensation of 1965. By her songs she boosted their morale as well as gave hope to common people. For her services to nation she was awarded Tamgha e Imtiaz which is highest medal in armed forces. In 1971 she attended a music festival in Tokyo Japan and represented Pakistan with pride.
Illness and Death
Noor Jehan ruled over industry for almost 6 decades. She made her country proud with her skills and sweet voice. But unfortunately she was diagnosed with angina problem that affected her heart. She went through bypass as well. She was also suffering from a chronic kidney disease and on dialysis for almost a year. On 23rd December 2000, she got a severe heart attack and she could not survive. It was the holy night of 27th Ramzan ul Mubarak.
Her death was a utter shock for entire nation. Noor jehan was the star symbol in both India and Pakistan. A lot of Indian lyricists and musicians mourn over her death. Famous poet Javed Akhter blamed both countries as he could not attend the funeral of the legend. Noor jehan is still alive in the hearts of fans. Her style statement, makeup, Glittering Saaris and most importantly, her melodious voice will never fade from memories for decades.