Marilyn Monroe was a Sex symbol in Hollywood for decades. Her style was iconic. Her death is still a mystery, whether its a suicide or overdose of drugs….
Marilyn Monroe was born on June 1, 1926, in Los Angeles, California. Monroe named Norma Jeane Mortenson at birth (later baptized as Norma Jeane Baker). Growing up, Monroe spent much of her time in foster care and in an orphanage. Her mother has unstable mental state. Whereas she never got to know about her real father as well. In 1937, a family friend and her husband, Grace and Doc Goddard, took care of Monroe for a few years. The Goddards paid $25 weekly by Monroe's mother to raise her. Isn't this a tragic start for a small kid.
Goddards were really religious and backwards. They do not allowed her to see movies and picnics well. At the age of 7, she had to return to foster care. Goddards were moving to coast side because of his job. At foster care she repeatedly raped and assaulted. Because of these traumatic events she dropped off from school at the age of 15. Her only escape was marriage and leave foster care behind.
Marilyn Marriages and professional life
She married to her boyfriend and merchant marine Jimmy Dougherty in 1942, at the age of 16. By the time Dougherty returned in 1946 from a marine mission. Monroe had a successful career as a model. That year, she signed her first movie contract. With the contract came a new name and image. She began calling herself "Marilyn Monroe" and dyed her hair blonde. Unfortunately they divorced after few years.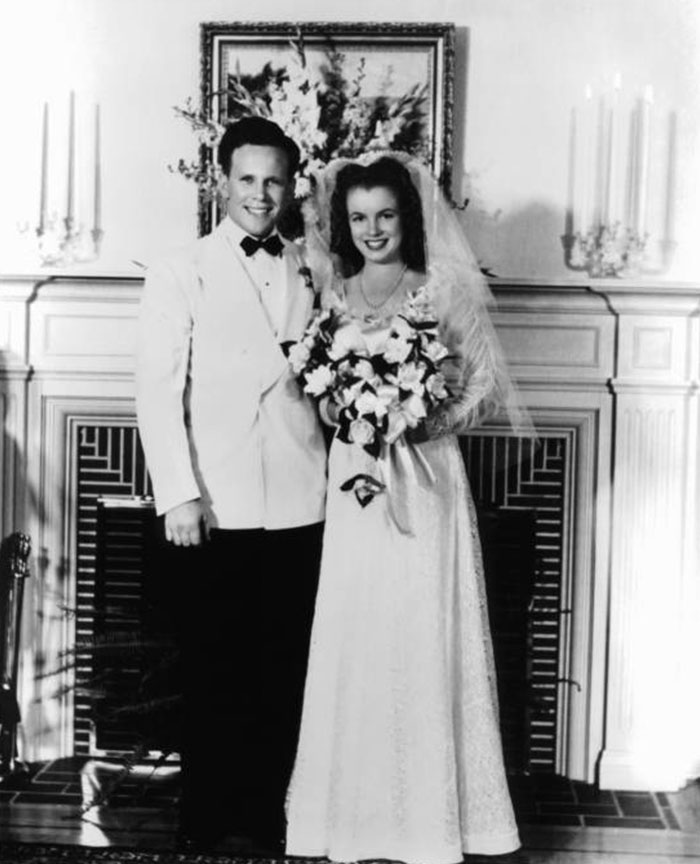 She began to attract attention as an actress in 1950 after appearing in minor roles in the The Asphalt Jungle and All About Eve. Although she was onscreen only briefly playing a mistress in both films, audiences took note of the blonde bombshell, and she won a new contract from Fox. Her acting career took off in the early 1950s with performances in Love Nest (1951), Monkey Business (1952),etc. She won international fame for her sex-symbol roles in Gentlemen Prefer Blondes (1953), How to Marry a Millionaire (1953) and There's No Business Like Show Business (1954). The Seven-Year Itch (1955) showcased her comedic talents and features the classic scene where she stands over a subway grating and has her white skirt billowed up by the wind from a passing train. In 1954, she married baseball great Joe DiMaggio, attracting further publicity, but they divorced eight months later.
Monroe's third and final walk down the aisle, to playwright Arthur Miller in 1956. But this wedding also fails after 5 years. She consider herself unlucky in finding love. Later her love affair with John F Kennedy and his brother Robert Kennedy got really famous and it said that this is reason behind her death.
Death of a star
Monroe died at her Los Angeles home on August 5, 1962, at only 36 years old. An empty bottle of sleeping pills found by her bed. There has been some speculation over the years that she may have been murdered, but the cause of her death was officially ruled as a drug overdose. Monroe buried in her favorite Emilio Pucci dress, in what known as a "Cadillac casket". No relation to Kennedy or his brother proved till date. That day Hollywood lost its golden girl forever.
Billie Eilish as Marilyn Monroe
Even after so many years Marilyn is still a style icon. Yet a lot of new girls tries to be her in this glamorous industry. Latest example Met Gala 2021. A lot of famous actresses pays tribute to the living legend. But in all of those glits and glam. Billie Eilish was a sight for sore eyes. her beautiful dress reminds us of Marilyn Monroe yet complimenting the beauty of young singer. It is safe to say that Marilyn influences the industry with great deal till date.