Met Gala is a charitable event became a talk of town in recent times. It is famous for its over the top as well as unconventional portray of fashion and industry.
For more than 70 years, the Metropolitan Museum of Art has marked the opening of its Costume Institute's annual fashion exhibit with the Met Gala. A way to raise funds for the institute while giving celebrities the opportunity to show each other up elegantly. Not to mention unique variety in the beauty department. It started in 1948 in order to support upcoming stars. In the 70s they start doing it with special themes and styles. It is one of the prestigious event in Hollywood. Met Gala 2021 is one of the most discussed event so far.
In 2020 there was no met gala event because of ongoing pandemic. Fashion police was craving for their annual glitz and glams. This year the theme for the event was "In America: Lexicon of Fashion". As strange as it sounds the theme was about to give tribute to independence of America. Celebrities from the Hollywood flooded wearing amazing as well as eccentric designer outfits. 70 percent of designers were from America as the theme suggests. Red, Blue and white were clearly satisfying the color palate. This is also applaudable that only vaccinated stars and crew were allowed to enter the event this year.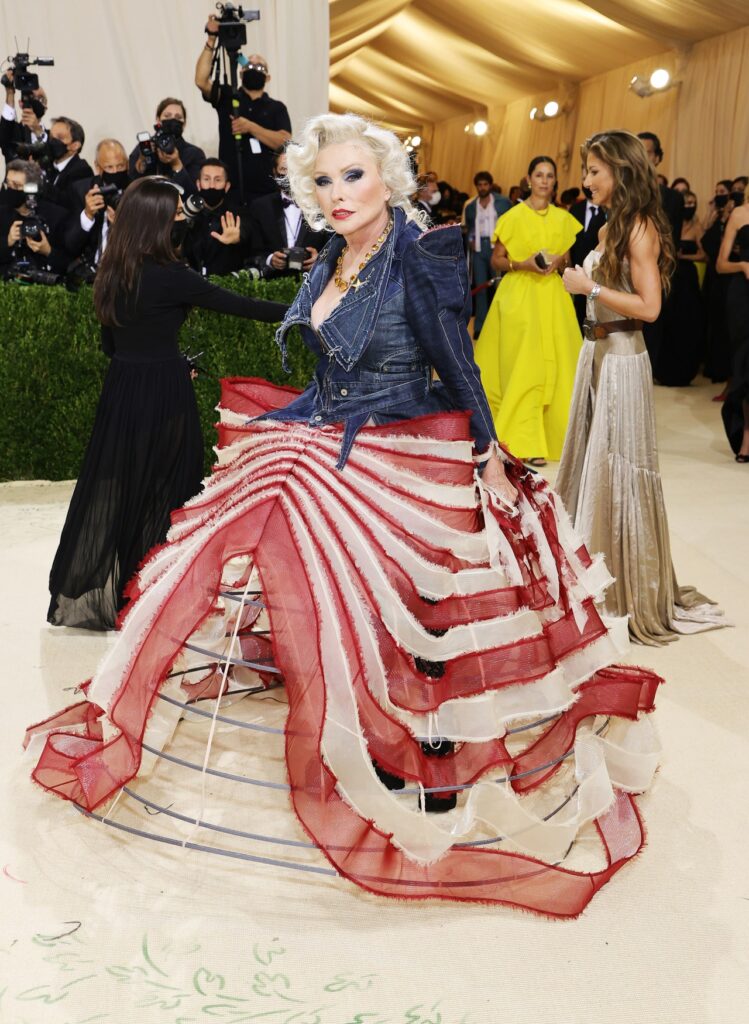 Some of Iconic Looks
Talking of iconic looks we cannot miss Kim Kardashian this year. Whether wearing a flower dress in pregnancy or latex dress in a press conference, she always steals the limelight. She wore a All Black head to toe Balenciaga dress for her Met Gala 2021 red carpet appearance. She matched it with her husband Kanye West. It was one of the odd yet amusing look in this event so far.
The president of Met Gala committee iconic star Rihanna does not need any introduction. She is famous for her unconventional looks as well. She also wore a Balenciaga 21′ couture in the event. Definitely looking like a queen in black flowy dress. Who came to conquer the world all on her own. Her look is most talked look this year so far. Fans are drooling over her makeup and appearance.
Lil Nas X an upcoming star in the town. He also opted for yet another out of box outfit. He wears a Versace gold draped gown. His three fold look made him like a king too. He pulled three regal outfits this year. His look is one of fan's favorite as well.
Tennis Stars attending Met Gala 2021
Met Gala is supposedly for entertainment industry only. This year prominent tennis stars made their debut on the red carpet. Maria Sharapova and Serena Williams are the most sparkling names in this event. The look of Serena is all the fans needed.
Food in Met Gala
Now this is a controversial side of Met Gala. The ticket of this event costs around 30,000$ to 35,000$. Despite of charity celebrities expects gourmet food in the place. At the the menu for this year was not revealed. However, the picture of the meal that Keke Palmer shared did not look appealing to Twitter users. In the photo, we could see some Barley topped with mushrooms along with a corn and tomato salad as well as some sliced Zucchini. "This is why they don't show y'all the food. I'm just playinnnn," wrote Palmer in her Instagram story which she later reshared on Twitter too.
Kylie Jenner backed out in last moment
Kylie Jenner is undoubtedly a queen of red carpet. Young self made entrepreneur is always making a headline. She is expecting her 2nd child with partner Travis Scott. She was rooting for met gala this year. But she backed out in last moments. According to her partner they are focusing on the healthy and safe pregnancy so far. Moreover fans were disappointed at the absence of the 24 years old star.