Famed playwright and anti-feminist Khalil ur Rehman held demeaning remarks and hatred against feminist movement in the country. However, he has sided with feminists after the horrifying assault at Minar-e-Pakistan.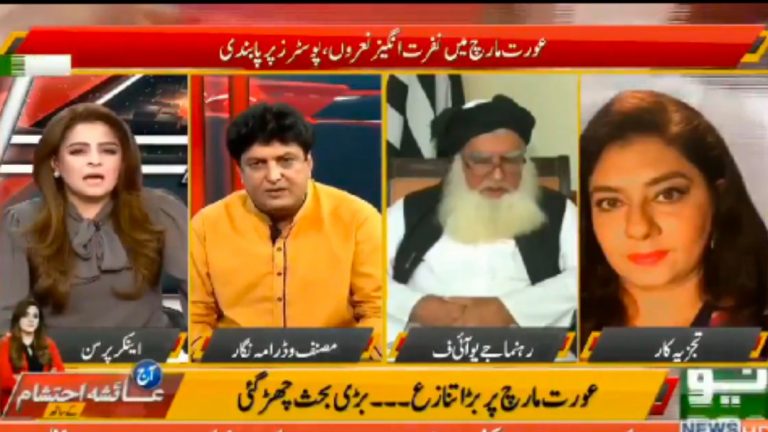 LAHORE, PAKISTAN – On 14th August, a large amount of people were celebrating independence at Minar-e-Pakistan. During the celebrations took place a horrifying assault against famed TikTok creator 'Ayesha Akram'. Around 400 men collectively circled in on her and sexually assaulted her for around 2 and a half hours.
The incident trembled the whole country, politicians, actors, journalist and celebrities all stood up and spoke about the assault. This incident managed to open the eyes of many that previously were against the feminist movement in Pakistan. However, amongst the list of people that changed their opinion was the unexpected addition of famed anti-feminist 'Khalil ur Rehman'.
Khalil ur Rehman is widely known for his anti-feminist remarks. Khalil in the past has openly opposed the feminist movement in the country. He has also called out the yearly Aurat March organized by feminist in the country and has also heavily criticized the 'Mera Jism Meri Marzi' (My body, my will) slogan by feminists in Pakistan.
Khalil, however after the sexual assault at Minar-e-Pakistan has changed his stance. He now appears to be supporting feminism in the country. Khalil in a statement after the assault said, "I should admit that a woman's honour and dignity is not safe in our part of the world".
Khalil ur Rehman's angry comments on the assault
Soon after the assault at Minar-e-Pakistan, people who criticize the Feminist movement in the country were called out. People came out and said that this event and many others like this are the reason that Pakistan needs feminism and women rights. Khalil ur Rehman being a famed anti feminist was also called upon and was heavily criticized on Pakistani social media.
Following the assault, a live talk shows invited Khalil to discuss the assault. The show host asked Khalil about what he thinks of the event. Khalil, who apparently looked disturbed by the event said, "I cannot comprehend the event. And I fail to understand the mental level of these 400 people".
Khalil said that the people involved in the assault were normal people and not criminals, which makes the situation even worse. He then questioned the upbringing of people asking what is it that made these people indulge in such an act and then termed the assault as 'Shamelessness'.
Khalil then referred to the event and said, "Almost everyone has a mother or a sister and people should be human enough to protect the mothers and sisters around them". He then went onto side with feminist and said that he now believes that feminist who fight for the safety and security of women in Pakistan actually stand correct.