Registan square is undoubtedly an example to be followed by modern world. It gives you the depth of Modern Islamic School of thought.
Uzbekistan a beautiful country in Central Asia hold a very rich set of history. One of the prominent tourist place is Registan Square located in Samarkand. Registan means "desert" or " sandy place" in English. Registan square is the most ancient building in region as well as it hold the record of oldest institute as well. Turco-Mongol king Timur built this in 14th century. This shows the diverse creativity of the king. Timur himself says "If you want to know about us, examine our buildings". Registan square definitely tells that Muslims of that time were keen to learn about Qur'an and science.
Registan square is one of the finest work of Persian artisans. The intricate details of gold on the roof gives it a beautiful dimension. Use of gold on roof with typical Persian arts is finest of all time. The detailing of blue and white designs shows the ancient work precisely. Registan square is basically a public place where people gather to hear public announcements and others. It is consist of three madrassas built by grand children of Timur.
the Ulugh Beg Madrasah (1417–1420),
the Sher-Dor Madrasah (1619–1636), and
the Tilya-Kori Madrasah (1646–1660)
The Ulugh Beg Madrasah
Ulugh Beg was the grandson of Timur. After the death of Timur, he built this Madrassa also known as school of science and mathematics. He hires the best teachers of that time along with the designs followed by his grandfather. He himself taught from this madrassa. They offers the knowledge of science, mathematics, space and firstly Qur'an. It was the most reputed and auspicious institute of its time. Many famous Muslim scientists and mathematicians were students of this Madrassa.
The Sher-Dor Madrasah
When you enter into square the building in front is Sher Dor Madrassah. In 1612, Yalangtush Bahadur starts ruling the area. He orders to built another madrassa in the vicinity. It is actually the mirror image of Ulug Beg Madrassa. They uses new technology of construction to make it more modern and fancy. Construction completes in 1636 and it offers best of education. If you remain in the Registan square after 7 pm, here is a treat for you. A show organizes everyday in which they play folk music and dance in front of Sher Dor Madrassa. It is also glazed by gold and blue persian piece of arts.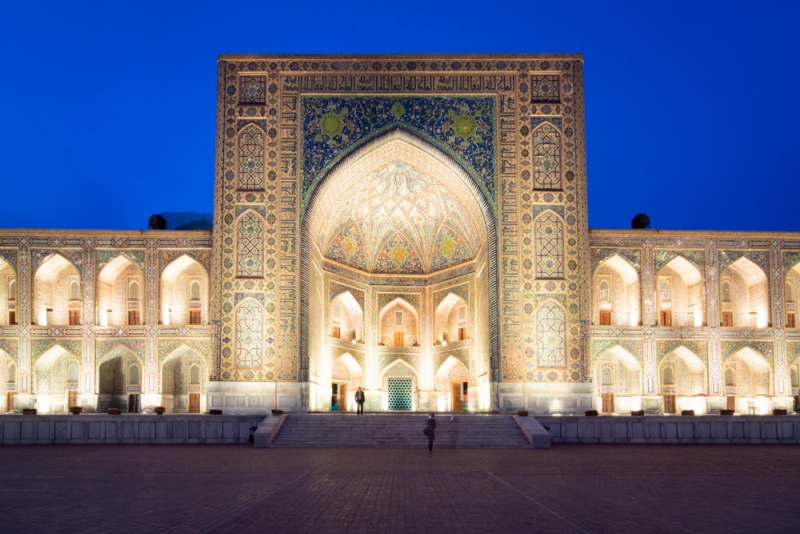 The Tilya-Kori Madrasah
After 10 years of Sher Dor, Another building erected in order to complete the premises. This took the longest time and it completes in 1660. Workers used the method "kundal" for painting and decoration purposes. After third building the square seems completes besides it has more room for students to get education. Tilla Kori itself means "Gilded"