To level the ODI series, Pakistan chased the highest One-day International target. Babar Azam and Co played magnificently to chase the total against the Australian Cricket Team.
Pakistan completed their highest successful ODI chase in a one-day international. Babar Azam's and Imam Ul Haq's centuries have given a fruitful result in this match. They chased a mammoth target of 349 runs against Australia. They have completed this chase with 6 wickets in hand. Pakistan Cricket Team absorbs the criticism in the 1st ODI and produces an excellent result in the very next match.
The opening pair of Imam Ul Haq and Fakhar Zaman has given a good start to the team. Both the left-handed openers played attacking cricket. The opposition got confused about where to ball and where to not.
Fakhar Zaman who always produces in big matches made magnificent 67 runs on 64 balls too. The first wicket falls down to Fakhar Zaman at the score of 118 in 18.5 overs when Stoinis has bowled a slow ball and took a breakthrough for his team.
Skipper Babar Azam joined the crease with Imam Ul Haq after one opener got down. This captain of the Pakistan cricket team has broken many records internationally and made many new records too. However, this time it was not easy also but he produced a match-winning knock. Although he struggled at the start, in the end, he started playing attacking cricket.
Partnership Between Babar Azam and Imam Ul Haq
When Babar joined the partnership Imam Ul Haq was playing at a score of 51. He is a well-settled batsman in this whole series. In the first ODI, when he got out, skipper Babar Azam made his correction while going to the dressing room. Now both players who played many matches with each other joined a crease to make history.
Also See: Australia Cricket Team back to Pakistan after 24 years
First, they go with a plan of just rotating the strike. It is the quality of Babar Azam and his technique is that he doesn't hit at the very first moment. He used to look at the swing of the ball and as per that he start hitting boundaries. He did the same in this match. However, on the other hand, Imam started hitting boundaries. At the score of 229 Pakistan has lost its 2nd wicket when spinner Adam Zampa bowled and Marnus Labuschagne catch the well-settled batsman, Imam Ul Haq at the score of 106 on 97 Balls.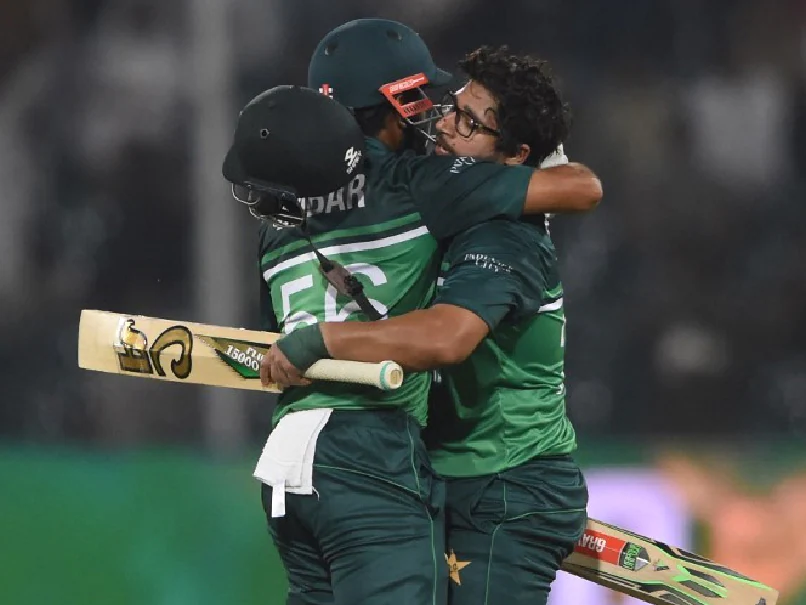 Muhammad Rizwan come to bat at the score of 229-2. It was the 35th over and Pakistan was just 120 runs away from the highest ODI target chase. Babar Azam was moving towards his fast century along with Muhammad Rizwan on the other end.
Theatrics of highest ODI target chase by Pakistan
While playing with Muhammad Rizwan on the one end, skipper Babar Azam completed his century on 73 balls. He mistakenly celebrated the score of 99. On the very next ball, he took a single and completed his century and celebrated again.
Babar Azam got out at the score of 114 on 83 balls. Pakistan's score was 309 in 44.2 overs. They needed 40 runs to win on 34 balls. Khushdil Shah has joined the crease with Muhammad Rizwan who was still struggling. In the start, the Australian cricket team bowlers have bowled some slow balls and make Khushdil Shah miss it.
Also See: Pakistan Women's Cricket team beat West Indies in WCC 2022
The strategy worked on Muhammad Rizwan and he got out at the score of 23 on 26 balls. Pakistan's score was 317 in 45.5 overs. Experienced Muhammad Iftikhar came to bat. Till then Khushdil gets to know how to go for long hits. He hit 2 long sixes and a four and he was standing at the score of 27 on 17 balls when Iftikhar played a winning shot for the four. Pakistan completed its highest ODI target in 49 overs.
Babar Azam won the man of the match award. He played a huge role in this win along with the help of Imam Ul Haq. Pakistan's total in the innings was 352-4, which is also Pakistan's second-biggest total while batting second and highest ever total against Australia in ODIs surpassing the previous highest of 315/8 scored at the same venue in 1998.