A wall full of stories and events came into life after so many efforts. Picture wall of Lahore Fort is finally restored and open to display to tourists in 2019.
Mughals gave a lot of beautiful monuments to the world. Even today architects devour their sense of construction and elegance. They changed the whole idea of construction in India and it's whereabouts in the 16th century. Lahore Fort is one of their marvelous creation built in the 1500s. The main part of the fort is its magnificent picture wall stand outside the Jehangir's entrance door. There are various decorative schemes uses on the façade including the typologies of glazed tile mosaic work, filigree work, fresco painting, brick imitation work, glazed lime plaster, pietra dura work, stone fretwork, cut and dressed brickwork, and terracotta screens. It is a 50 Feet high and 1450 Feet long embellished wall.
Wall came into existence in 1632 AD. After that it was thoroughly maintained by Akbar, Jahangir, Alamgir and Shah Jehan. Mughal emperors took good care of their magnificent creation. After the downfall of Mughals, wall was heavily modified by Sikhs and Hindus.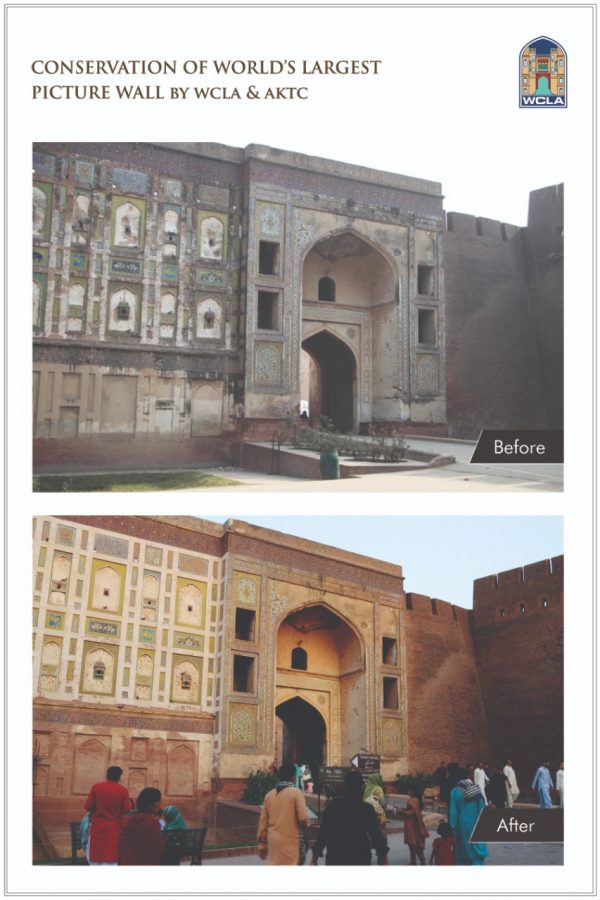 After the independence, authorities initiate a nominal budget for its conservation. With the passage of time and negligence, the marvelous picture wall starts getting fade. All the beautiful details slowly became unrecognizable. Tour guides use to tell tourists about picture walls as a forgotten story. Lahore Fort was declared as a UNESCO World Heritage site in 1981.
Great work by WCLA and AKTC
In 2016 Walled City Lahore Authority (WCLA) and Agha Khan Trust for Culture (AKTC) took an initiative to restore this historical gem. Work started in February 2017. A hefty amount of funds came from the Norway Cultural department as well. However, All the work completed with funding from the Royal Norwegian Embassy, the Government of Punjab, the Federal Republic of Germany, and the Aga Khan Trust for Culture. Moreover, They use all the resources to research and put an exact picture on the wall as it was in the past.
Wajahat Ali, senior conservation architect of Aga Khan Culture Service Pakistan, said while explaining the procedure, "This architectural study has begun to examine patterns of the 800-metre historic Picture Wall. We are using 3D-scanners for the first time, previously a machine called the 'total station' used to examine in architectural surveys of historic buildings."
 PM Imran Khan inaugurated the restoration of the 400-year-old "Picture Wall" of Lahore Fort. The Picture Wall is one of the principal features of the Lahore Fort on May 04, 2019. Now it is open for common tourists and they can devour the intelligence and elegance of Mughal emperors in person as well.