Biggest enemy of beauty in men or women are Dark circles. A lot of experts share their reasons and remedies to avoid or reduce them. We will discuss few in this article.
Today world has become more fond of appearances. Even men are more concerned about their appearances which considered for women only once. Biggest problem anyone faces is mighty Dark Circles or Puffy eyes. They instantly made you look older or tired. To tackle this problem you have to know the exact reason of them. There are various reasons that can cause dark circles. Some of them discussed bellow
Aging is one of the reason you can get dark patches. After a certain age the skin under your eyes become more sensitive and thin. With the passage of time it gets less elastic and area starts getting dark.
Lack of sleep or Insomnia is another major reason of puffy eyes. Eyes gets more tired and exhausted, that can cause panda eyes.
Genetics plays a vital role as well. Sometimes if the problem sustains in the bloodline of your family, dark circles become the go to problem for everyone in the family.
Screen time is another reason to get dark eyes these days. Lights and rays of computer or phone are dangerous for the sensitive eyes. So after a certain time they starts getting itchy and dehydrated. It can cause dark areas under your eyes.
Allergies are another big reason to get this problem. If you are allergic to something, eyes and nose area become instant affected. So if the allergies continues to come back frequently, area gets weak and dark.
Other then these Rubbing eyes frequently, stress, wrong food or inadequate food intake, smoking, eye strain etc. can cause the problem mankind is trying to cure for ages.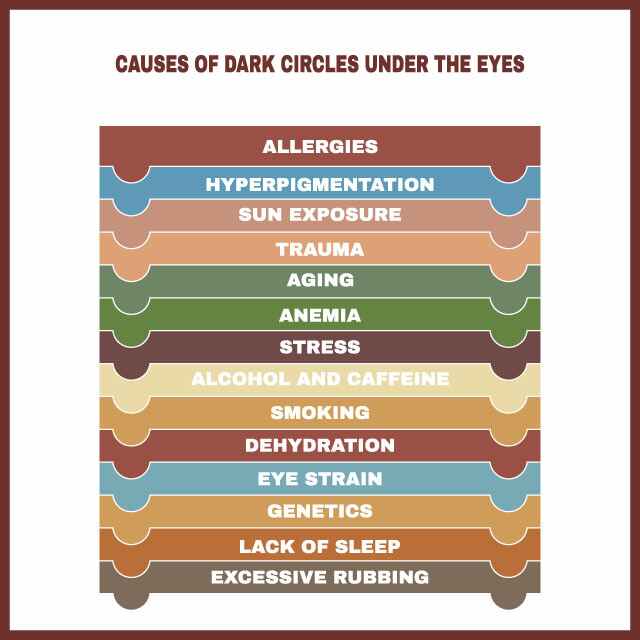 Home remedies to reduce the problem
There are many tried and tested remedies than can help to reduce dark circle with time. Here is a tip for everyone. Use one remedy for almost 4 to 6 weeks daily. If you are seeing no effect then move to another remedy. It will help you to figure out the one remedy that works for your skin perfectly.
Cold Compress: This method's recommended by dermatologists as well. You can try this everyday in the morning. Take a spoon, put it in a fridge for 30 minutes. Then place the spoon on your eyes for ten minutes. It will increase the blood circulation and gradually dark circles will vanished. For cold compress you can use Cucumber, Tomatoes, grated potatoes, etc. as well.
Read More: Brown Representation in 74th Edition of Cannes Film Festival
Lemon and Cucumber mixture: Since cucumber has lightening agent and Lemon has vitamin C, a mixture of both can help to cut down the darkness under your eyes. This method is very popular and proven one.
Cold Tea Bags: Weird but effective remedy for dark circles is cold tea bags. You can use Used Tea bags, place them under your eyes for 10 minutes daily. Caffeine in the tea bags will help to reduce the puffiness of your eyes. It also gave a bit of a glow under your eyes as well.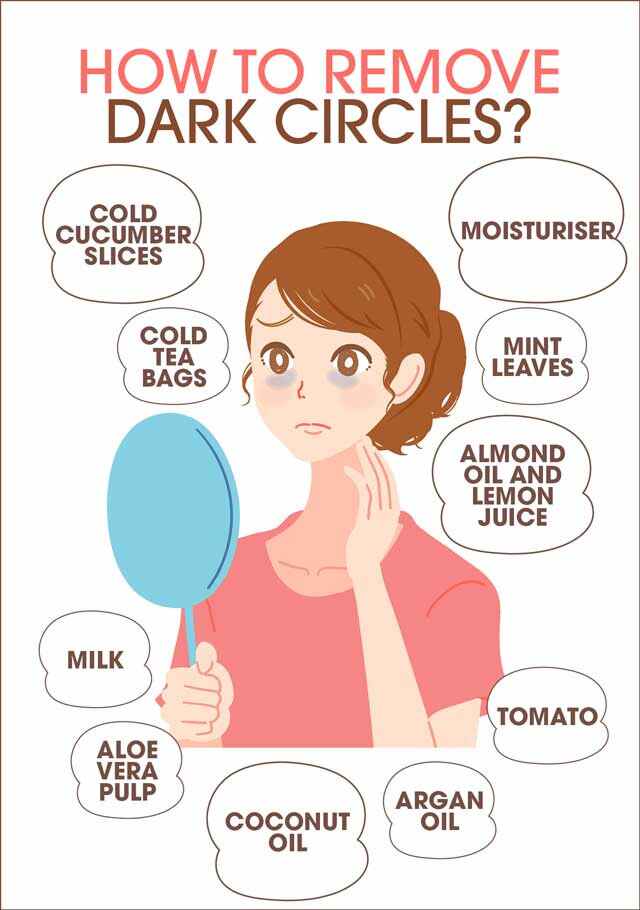 Essential oils: Vitamin E oil or Coconut oil considered best to tackle this problem. Best thing about this remedy is it has the least or no side effects. Natural oils under your skin will balanced and it will brighten up your eyes in few weeks.
Rose Water: A product that is present in every household. This will act as natural toner to balance ph. level of your skin and with the time darkness will definitely reduced.
Medical Remedies for dark circles
Moisturize and Massage: If the eyes area gets dehydrated, it will get dark. So use a good moisturizer or eye cream for your eyes daily. Irrespective of your age and skin type, your eyes need this attention.
Micro needling or Laser treatment: if you want a quick and effective method, you can try micro needling or laser. A bit hefty on your pockets but it will remove your dark circles permanently.
Also See : Miraculous Health Benefits of Kalonji (Nigella Seeds)
Chemical Peels: You can find this by the recommendation of your doctor. It will peel off dead cells and brighten up the area in few attempts.
Fillers: Hyaluronic acid filler injections (like Restylane or Juvederm) will help by re-plumping the area and pushing the skin up and away from the blood vessels. Another expensive yet famous method in the beauty world these days.